Video support to fit a post-production workflow, consisting of these interrelated features:
Opening a video file, loading video and audio respectively in a floating video player and on a dedicated audio track.
Compatibility with OMF, AAF, XML, EDL and ALE files to allow to seamlessly exchange sessions with video editors and properly edit/mixing the audio of a video project. This would be fundamental to go beyond scoring and to allow Bitwig to become a fully fledged post-production option, making it a viable option for professionals.
A marker track allowing real-time and grid based cue markers.
Export the project in a video file without needing a video editing software. This would make sending demos out extremely easier.
What problem(s) would this feature resolve?
Bitwig doesn't offer any options to work with video. There are a couple video player plugins, but they are not reliable and sufficient to work on video using Bitwig. In practice, users interested in integrating music with video end up relying on another DAW.
How does this feature fit in Bitwig as a product?
Bitwig is an innovative product heavily focused on opening sound design possibilities. Audio and image are increasingly integrated in a long-term trend. Bringing video support to Bitwig would open this product to a big professional and hobbyist market. It could also open the door to innovative ways to create music and sounds with support of video data.
Is there already an alternative way to achieve this on Bitwig?
No
Could it be implemented using Bitwig components or APIs, without Bitwig team's support?
No
Could it be provided by a VST or something else reasonably integrated with Bitwig?
Yes and No. There are Video Players plugins like VidPlay VST and XJadeo but they are not stable and only cover the most basic features.
Are there other products that offer this feature?
Cubase, Pro-Tools, Logic.
Relevant links (optional)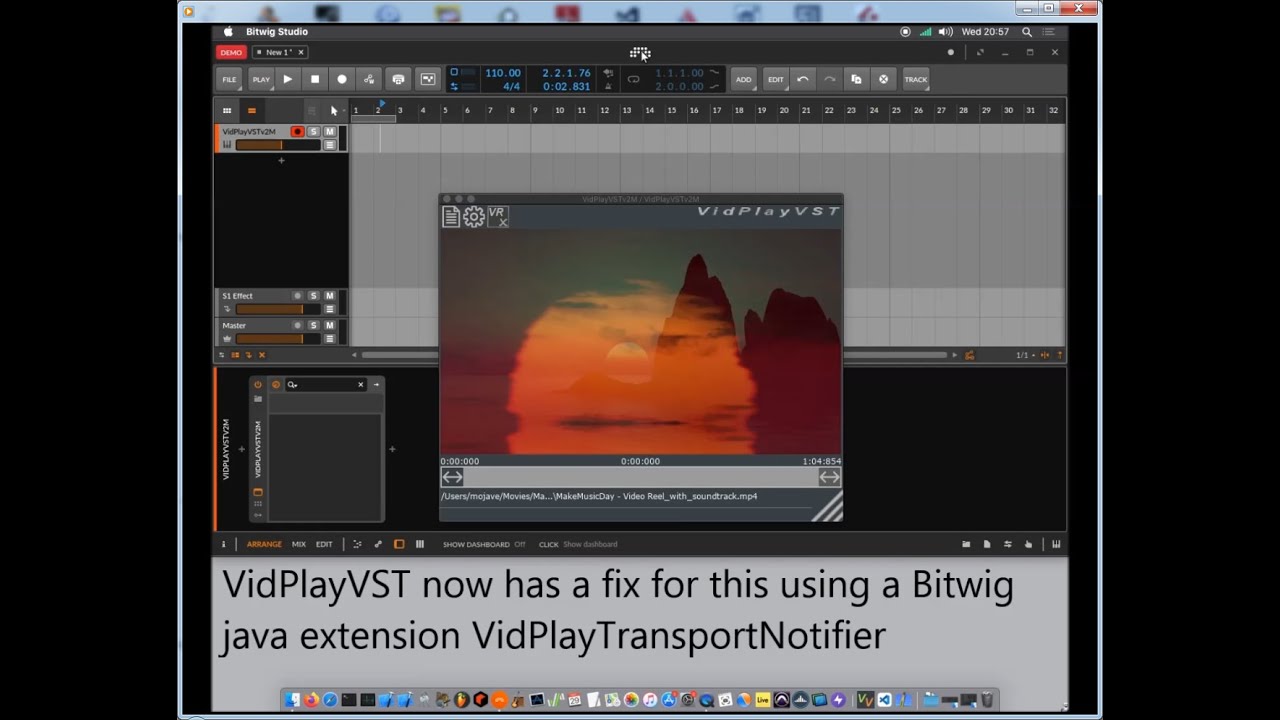 https://non-lethal-applications.com/products/video-sync-5/video-sync-5