Integrate in the Sampler the audio slicing features already available in the arranger, for easier and faster manipulation of audio samples.
Manual slicing, equivalent to using the Knife tool
Automatic slicing based on onsets, beat markers or time, as in "Slice In Place"
Manipulation of slices, just like the manipulation of audio events.

Adjust boundaries between slices (drag)
Add, delete, and nudge slice points.
Consolidate and delete slices.

Mapping to controller for easy and precise slicing using MIDI hardware.
The slices of the sample would be visible all at once in the single audio file window (shown below, in a stock image without the slices).

To manipulate slices, users would double-click the Sampler window and then work on the list editor already available for multisamples (see below), adapted for slicing a single audio file.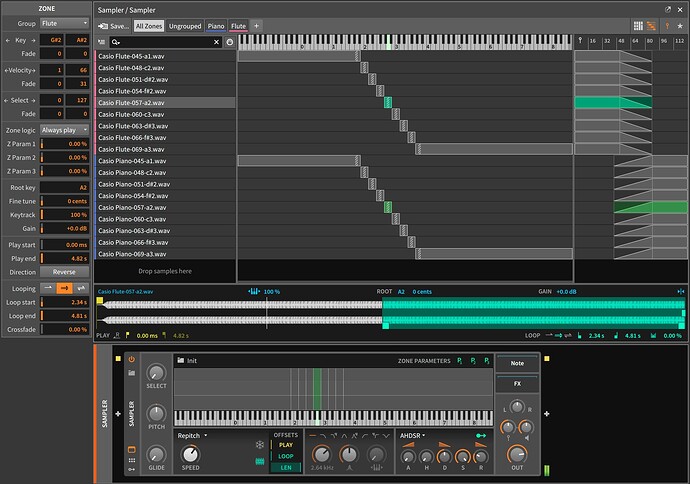 All this could be achieved integrating in the Sampler features already available in Bitwig. One nice addition would be "Lazy Chop", slicing a sample manually while playing the audio. This is an option expected in a sampler nowadays.
What problem(s) would this feature resolve?
The existing feature "Slice to multisample" is impractical beyond basic cases. If you don't get the multisample right, you need to edit each sample separately and adjust boundaries manually. Or go back to the arranger, apply the fixes, and create a multisample again.
For these reasons, users need to either spend extra time preparing their samples, or use a sampler outside of Bitwig.
How does this feature fit in Bitwig as a product?
Bitwig has invested in a sampler that has many strengths. Slicing within a sampler is a common feature, and probably the only one that is keeping Bitwig users relying on an external sampler.
Is there already an alternative way to achieve this on Bitwig?
You can slice to multisample, or make a Grid patch that autoslices by beat divisions, but they both are pretty inconvenient workarounds.
Could it be implemented using Bitwig components or APIs, without Bitwig team's support?
Yes, but it's not exactly drag'n'drop experience. Preset exists that can slice loaded sample on up to 64 slices by defined level threshold for transients, but apart from loading sample you need to input sample's duration into a dedicated parameter and manually press 'scan' button twice to get result and start playing with sampler. It's also not exactly light on CPU, certainly not as much as native feature within Sampler could be.
Link for preset if you need this temporary solution anyway: Bitwig Preset: Sample Slicer | Bitwiggers
Could it be provided by a VST or something else reasonably integrated with Bitwig?
There are VSTs that can handle this, but VSTs do not integrate with Bitwig in ways that native devices can.
Are there other products that offer this feature?
It is commonly found in hardware and software samplers like Vice, Redux, MPC or Maschine. Also in other DAWs like Ableton Live.
Relevant links (optional)
From the User Guide: