A Grid module that would load a Device or a VST plugin inside a patch. The features would be equivalent to the ones available when loading a VST as a device: its parameters could be modulated, and its audio signal could be processed by other modules, including Audio Out.
Some use cases:
Use a Device or VST plugin as a sound source that can then be mangled with other things - for example, a 3rd party synth patch that is triggered and controlled by The Grid then go through processing in The Grid again.
Use a Bitwig or 3rd party effect towards the end of the chain, like a reverb or a glitch processor.
Use a Bitwig or 3rd party effect within a voice or a small part of the chain, for example, a distortion, or some easy multi-band editing of a particular sound before it gets passed on.
Have interactions between different Bitwig and/or 3rd party effects that usually don't interact, i.e. use one to modulate the other in unexpected ways.
This feature would make The Grid an open workspace as opposed to a closed one. Its implementation could be done with one module for all Devices and VSTs or two, one for instruments and one for effects.
What problem(s) would this feature resolve?
Currently there is no direct connection between The Grid and Bitwig native devices and VST plugins. The Grid only has oscillators and the Sampler to create sound. Note data generated inside the Grid cannot be used by Devices and VST plugins with ease and good performance.
How does this feature fit in Bitwig as a product?
Bitwig pushes innovative workflows through open-ended architecture. This feature would make The Grid (a central piece of Bitwig) more open.
Is there already an alternative way to achieve this on Bitwig?
You can modulate device parameters with Grid signals if they are in the FX chain of the Grid instance. However, you lose Grid-specific possibilities like voice layering.
Could it be implemented using Bitwig components or APIs, without Bitwig team's support?
No.
Could it be provided by a VST or something else reasonably integrated with Bitwig?
No.
Are there other products that offer this feature?
Max/MSP, VCV Rack
Here is an example of a VST plugin loaded in a VCV Rack patch.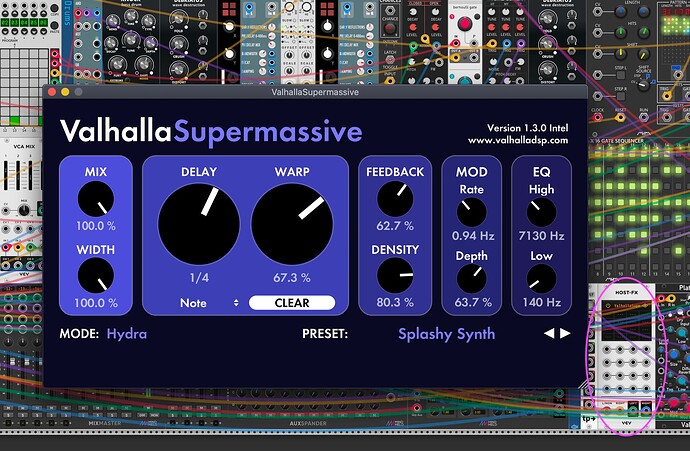 Relevant links (optional)