It would be a button that toggles this on/off: When on, the timelines (scroll position and zoom factor) would be synchronised between the Arranger window and the Detail Editor Panel below in a way that the bars are always aligned between the two, no matter how much you scroll or zoom in one of them.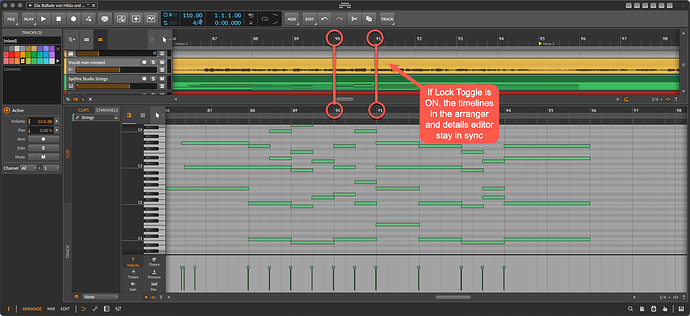 What problem(s) would this feature resolve?
Massive workflow improvement. If you are working on a track in the Detail Editor Panel and need to see quickly see where you are in the context of the arrangement. Also, when your edits in the Detail Editor Panel need to be aligned to something that is going on in a different track.
How does this feature fit in Bitwig as a product?
Bitwig is a lot about efficient workflow, being able to produce more and better music with as little wasted effort as possible.
Is there already an alternative way to achieve this on Bitwig?
As far as I am aware, there is currently no way to achieve this, apart from manually aligning the two, which breaks again every time you scroll or zoom in one of them.
Could it be implemented using Bitwig components or APIs, without Bitwig team's support?
No.
Could it be provided by a VST or something else reasonably integrated with Bitwig?
No.
Are there other products that offer this feature?
Studio One and Cubase have it, but most likely also others.
Relevant links (optional)