Bitwig and its users would greatly profit from a Looper functionality,
where you can make audio overdub (and midi-track-overdub) with a quick workflow,
just like with a Loopstation. Ideally directly within the Cliplauncher.
By letting the user record automatically into the "next free scene slot",
accompanied by a smart settings-region mimicing loopstation functions.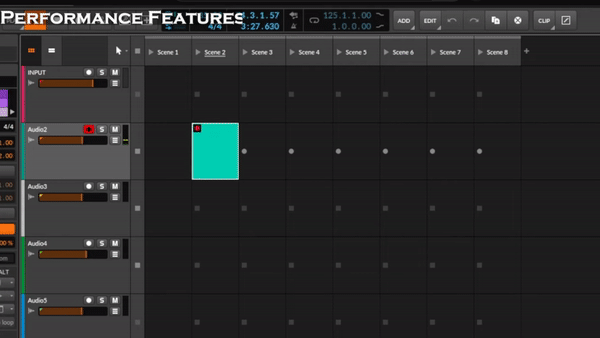 (click GIF if it's not playing)
This Feature request consists of three more "post recording actions" and their respective settings, to achieve proper Loopstation functionality:
"select next free slot" = Bitwigs Clip-Selection switches to the next free Slot of the same Track. You can record another take in the same track at a time of your choice without having to manually switch from clip to clip.

"select next free scene slot" = Bitwigs Clip-Selection switches to the next free Slot of the NEXT Track. you can record at a time of your choice in the next track of the same scene without having to switch manually.
This is semi-automatic audio/midi overdub with a flexible recording start!

"record into next free scene slot" = you can immediately record into the next track without having to manually switch there and without having to press record.
This is fully automatic audio/midi-overdub! Awesome!
To really be a proper Looper/Loopstation, Bitwig also needs more settings for the activation of those "post recording actions". Aside from the already existing "post record delay", there must be:
enable/disable post recording action = on/off for post recording action. Overrides all other options like "Post Record Delay" and "Loop Count".

Enable/Disable Loop count before Post Recording Action (default value is x1 = one clip length) = If active, the Post Recording Action is triggered immediately when the current clip recording is ended by pressing the Record button. If the value is greater than 1, the clip is repeated a corresponding number of times, and then the Post Recording Action is triggered.

Enable/Disable first Clip sets Post Record Delay count = If enabled, the first clip recorded determines the clip length of all subsequent clips. Can only be enabled if Loop count is on and therefore Post Record Delay is off. As soon as the length of the first clip has been determined by ending the recording with the Record button, and Loop count has been processed (at x1 immediately, at x2 after repeating the clip once, etc.), Loop count is deactivated and Post Record Delay is activated with the bar length of the first clip.

Enable/Disable auto-adjust Clip-Length = Automatic shortening of the clip length, in case Record was not pressed in time, but a few milliseconds (up to one beat) after the desired bar length has elapsed. This subsequent automatic shortening by -1 bar (I'm assuming 1 bar Launch Quantization) would also work wonderfully together with "3. enable/disable first Clip sets Post Record Delay count", since the bar count for Post Record Delay can also be changed while recording is running.
All mentioned settings/functions must be midi-assignable, to be quickly useable in a live-performance.
What problem(s) would this feature resolve?
Bitwig has no audio overdub, and no Looper, and no possibility to automatically switch between Tracks to make quick Midi-Recordings with different Instruments. There is also no way to midi assign Bitwigs Post Recording Actions!
These are huge problems for any live-looping-artist, which would ALL get solved AT ONCE.

Besides, the audio overdub with the new post recording actions would be better than usual audio-overdub methods, since it's non-destructive, and therefore the user can keep each audio-layer for further mixing and editing.
How does this feature fit in Bitwig as a product?
Adding better live-looping functions would greatly improve Bitwigs live-performance. It's a perfect fit.
Is there already an alternative way to achieve this on Bitwig?
No.
There is no way to make automated audio overdub, automated midi-instrument-overdub for different tracks, and no way to adjust the recording settings to mimic a loopstation.
There is "some sort of" audio-looper which has been made for the Grid, but it doesn't provide a proper loopstation functionality, as described above.
Could it be implemented using Bitwig components or APIs, without Bitwig team's support?
No. Please help us, dear Bitwig!

Could it be provided by a VST or something else reasonably integrated with Bitwig?
No, since this Feature request specifically adresses a DAW-internal solution.
Are there other products that offer this feature?
Loopy Pro (a Standalone app), and the One Button Looper (a m4l device for Ableton) come close offering the feature, but not fully.
Relevant links (optional)
In this video, i describe the Feature Request. Start with minute 17 to skip the introduction. The only thing missing in the video is the detailed description of the necessary settings, which you can read above.